I might as well start this off with the description that Conscars wrote for his program.
GuiltySpark is a user-programmable automation engine for Halo CE. Users can create scripts that control the player's ingame reactions and behaviours. Scripts can range from simple key macros to bots that play the game without any user interaction. When activated, GuiltySpark controls the game for you by simulating mouse movement and keyboard input. Advanced scripts can take advantage of user-created pathfinding graphs.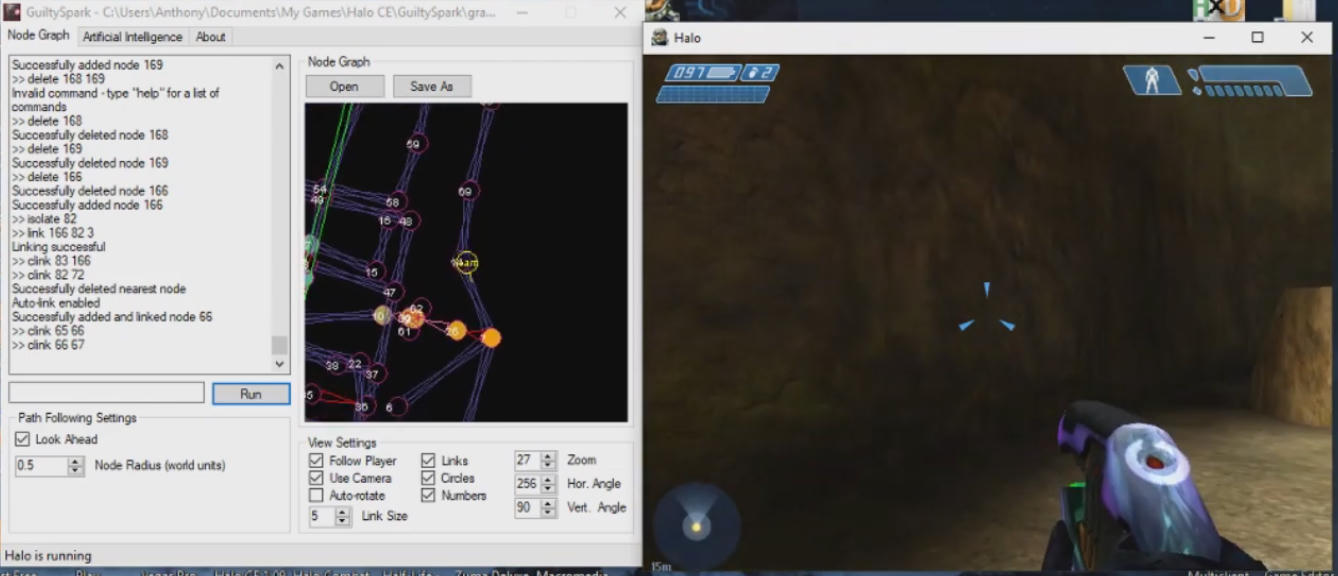 So way back in about 2011, a guy by the name of Conscars released this program for Halo CE 1.08. One of the program's features, the ability to create node graphs for bots, caught my attention and led to me having some fun. The program originally launched with Bloodgulch, Rat-race, and Damnation finished. I made graphs for Beavercreek, Chillout, and Derelict.
Since the project has been dead for so many years, the program was locked down to version 1.08. But with some help from Giraffe, that's no longer an issue. I know next to nothing about programming, so I'm hoping that this will garner some attention and somebody with some actual programming knowledge can revive this project. The source code is out there so it's doable.
I had a lot of fun playing around with this program and I think it has potential. It's definitely not perfect and some bugs with how the nodes work still need to be ironed out, but I've always wanted multiplayer bots in Halo and this is probably the closest we're going to get(at least until either MCC PC or Halo Infinite are released). This program uses .NET framework so make sure you've got that all updated.
P.S. Special thanks to Giraffe for updating the program.
Links
Download:
https://megaupload.nz/nb3fQ9s1nc/GuiltySpark1.10_zip
Mirror:
https://www.mediafire.com/file/85w93mgx63gnp62/GuiltySpark1.10.zip/file
Modacity Page:
http://www.modacity.net/forums/showthread.php?24206-GuiltySpark-for-1.08-automate-your-player
Source Code:
https://github.com/csauve/guiltyspark
Conscars' Site:
https://t3hz0r.com/
Edited by Stuffy_Junk on May 25, 2019 at 07:19 PM
Edited by Stuffy_Junk on May 26, 2019 at 08:39 AM
Edited by Stuffy_Junk on May 26, 2019 at 08:43 AM