Quote: --- Original message by: Dennis
Quote: --- Original message by: sparky
@Dennis
A person should do what they genuinely believe is best.


Don't try to inject yourself into something in which you have only partial information.
(Respecting people's opinion + offending people) / 2 ≠ "love your neighbor as yourself"
Somewhere in the equation you have to fit kindness and empathy to meet the golden rule of "do to others what you would have them do to you", otherwise it all might as well descend into mass murder -- after all, if we all start condemning each other, who is to say where it should stop? Mussolini said it should stop with him because he had the biggest guns -- but if you know anything about the afterlife, it would be a probable guess that Mussolini is now dead and burning in Hell for the consequences of his actions. Or are we to agree with the war cry of muslims and islam, and believe that by murdering the most number of educated white people (read: Christians) one can earn their way into Heaven and be sexually entertained by 72 virgins? Is not such a ridiculous lie? Is not such a war cry against civilization? Is not such actually wrong? If it is wrong, then what is right? Mussolini did not care what was right, which is why he subscribed to Relativism. On the other hand, people who listen to the only true God and his only son are taught by God what is right -- and they adhere to his words and gain eternal life because of him.
Quote: --- Original message by: Dennis
Quote: --- Original message by: HandofGod
The last sentence was really unnecessary. But the rest of it is your opinion, so I guess people should respect that.
was banned...threats of violence...all the mass shootings...you have to take these things seriously...do not engage.
If you are taking these things seriously, and you were not personally involved in several "mass shootings", then that means you are taking seriously reports by one or more people who have reported such things.
Look around. "For where is the wrath of the oppressor?"
Why should one be concerned with that which they cannot do anything about themselves? My conclusion has been to ignore the news, because the world will end with or without my input.
But I take God's words seriously, and that is why I have insight and wisdom. And one command is to "love your neighbor as yourself", which, when obeyed, means you "forgive" and "do not murder".
Maybe then it is time to inject more of what I know into this about which I have an excess of meaningful information -- unlike news reporters who merely as quickly as possible regurgitate what the CIA or wikileaks tells them without bothering to consider the psychological effects of bringing war into the living room.
So do you want to know about and talk about and spread information about evil war which you cannot affect, or would you rather know about and talk about and spread information about good compassion which you can exhibit? "The good man brings good things
out of the good stored in his heart
and the evil man brings evil things
out of the evil stored in his heart
. For out of the overflow of the heart, the mouth speaks."
The decision seems simple to me. Believe me, I've had my fair share of seeing people be murdered and beaten, and I've seen my fair share of people's heads being blown off. Surely right now I could link you to a video that would become a red pill that you and others -- even in your older age -- would probably regret having watched because of the resultant nightmares it would give you. But these are scars, not edifying examples. Why seek justice in psychological warfare when you can seek justice from The Creator?
You're going to trust the police then? Let's escalate that a little further. Maybe you want to write to the president. Maybe you want the military involved, maybe there should be a war against mass shootings. Understand this: "Many seek an audience with a ruler, but it is from The Lord that one gets justice." (Proverbs 29:26).
You said you take mass shootings seriously, so then seriously think, what will a police officer do with that person? They will go to their residence, knock on their door, and ask them if they are a danger to themselves or to others. They might then call the local church minister who is on-call and the officer's partner would stay while the minister comes and probably does a terrible job trying to empathize with the person.
Or we can cut to the chase and I can advocate for empathy and loving your neighbor as yourself. That seems more economical than you taking the time to report their IP to their local police "for follow-up" -- but there is no follow-up if there has not yet been any effort at exercising real justice. And real justice, as I said earlier, means working for the betterment of everyone involved in a situation.
So I will either work for justice for everyone here, or I will leave. After all, you will either accept my opinion or you will try to silence me. Internet Censorship: 1, Net Neutrality: 0.
https://www.fightforthefuture.org/
What a stupid slogan. Why don't they just keep their opinions to themselves?!
Should people forget all reasons for civility, and instead simply snitch and litigate, betray and hate, and be afraid of each other? Congrats, you reported them to the police. I'm sure the police have their hands full with many other would-be murderers. All you've done is offloaded the burden without lifting a finger to bring good to the situation. Feel good about yourself. Much kudos. Meanwhile, The Lord Righteousness, Savior of the World, who gave his own life to save murderers, said, "My Father is always at his work, even to this very day, and I am also working." He is the one who "led justice to victory; in his name the nations will put their hope". So while you are relying upon mortal men to clean up the mess you push over to them, I am citing historical REASON for laws so that maybe -- just maybe -- people who use this thing you maintain might be able to see reason and choose to do what is right (in their own lives and on this forum) rather than offload their own problems onto others like your example.
Sorry if I am offending you, but I defend what is right regardless of the self-righteousness in the mind of the observer or the self-esteem in their heart. Such is discipline.
Discipline or death.
Quote: --- Original message by: Dennis
Don't try to inject yourself...
Why should you try to silence me? Jesus replied, "If I said something wrong, testify as to what is wrong. But if I spoke the truth, why did you strike me?" (John 18:23).
I said it years ago and you did not listen: If this place is found lacking, it will surely end. How can we ignore anger and interpersonal conflicts and expect a thriving community with many halo maps and much camaraderie and fun and collaboration and sharing? You have been unjustly selective of what information you are willing to have people share -- even at times like this when it is the main premise of the topic that addresses the rot at the core of the apple. Nobody wants to bite into this apple anymore, because they see it is rotten. That's why they're looking elsewhere and making their own social avenues so that they can see what it's like to be a community manager. Surely you will point the finger and say you did nothing wrong, but if you are willing to cast blame, then show us how it should be done. Or if things are so copacetic with the forum management, then why does this thread have to exist and why do I have to say anything about interpersonal conflict? If you've done such a wonderful job as an example to others and at managing this web site and its forum, even as to not need to dedicate much time to it because it practically runs itself, why all the complaints in this thread by people who exhibit interpersonal conflict?
Shall I continue or has the dawn of reason risen on the minds of the readers?
Something is wrong, and we collectively have testified as to what is wrong, as God and Jesus Christ commanded for real justice. Will you accept betterment?
Quote: --- Original message by: SBB_Michelle

Edit:

I had this really long message explaining myself here, but I just learned that being nice and genuine on this site is not worth anything.

You know. I feel good, and I try to spread happiness. But then I go here and I just die on the inside.

I give up. Meet me on my server if you want. But don't even mention this site if you can help it.
Edited by SBB_Michelle on Aug 12, 2019 at 02:19 PM
"Do not give dogs what is sacred. Do not throw your pearls to pigs. If you do, they may trample them under their feet and then turn and tear you to pieces." (Matthew 7:6).
Quote: --- Original message by: Dennis
...you have only partial information.
OK so you don't want me to use your forum. I get it. Great forum management work there, naming and shaming and rejecting people... but I will say this one more thing:
I quote God because God does not "have only partial information".
Yet that is why you reject me.
So it seems you do not actually want wisdom or people to speak who have more than "partial information".
...because equality.
Checkmate. Best two out of three?
Quote: Because of the increase in wickedness, the love of most will grow cold. But he who stands firm to the end will be kept safe.
So I help with a simple solution. Soften your heart. Dulling your senses does not make you safe, but ignorant. (Is it safe to walk around with your eyes closed? Neither is it safe to communicate before considering the nature of the one with whom you are communicating.) Which is safer: a loving and nurturing environment or a cold void of bitterness, hatred, anger, and strife? Is it safer for your wellbeing in outer space or with your loving parents? So then why feel pain, become defensive, harden your heart, and retreat into the cold, dull, lifeless void of apathy? Isn't it better to love and understand through consideration and empathy and thus have your eyes open to make an informed statement? God's love is infinite, and he is most patient. Surely his words are worth considering then.
Quote: Listen! A farmer went out to sow his seed. As he was scattering the seed, some fell along the path, and the birds came and ate it up. Some fell on rocky places, where it did not have much soil. It sprang up quickly, because the soil was shallow. But when the sun came up, the plants were scorched, and they withered because they had no root. Other seed fell among thorns, which grew up and choked the plants, so that they did not bear grain. Still other seed fell on good soil. It came up, grew and produced a crop, some multiplying thirty, some sixty, some a hundred times what was sown.
Edited by sparky on Aug 15, 2019 at 08:08 AM
One last thing.
This is what anyone can clearly see who visits this forum:
- The forum owner points the finger at the community, implicitly blaming them for causing their own problems by the content of their messages, and bans people who show emotional disturbance and say the wrong thing.
- The community blames the forum owner for not being active enough and not giving them new things, and badmouth him and his work to his face and behind his back, thus being dishonorable ingrates.
- The community attacks each other openly and behind each other's backs.
- I come along and see this and quote God who said, "Any kingdom divided against itself will be ruined." I proceed to point to the solution. The forum owner refuses to accept that there is a problem and the community refuses to change their ways, both refuse to listen to God who alone is good, and both proceed to reject, insult, mock, ridicule, and try to hurt me in every way they can indefinitely without any end to their hatred in sight.
Tell me again how this community is not divided, and how Jesus Christ's words are irrelevant and unhelpful, and how stupid I am for mentioning God in this godforsaken place. GO AHEAD AND TELL ME.
Quote: Jesus replied, "Anyone who loves me will obey my teaching. My Father will love them, and we will come to them and make our home with them. Anyone who does not love me will not obey my teaching. These words you hear are not my own; they belong to the Father who sent me. All this I have spoken while still with you. But the Advocate, the Holy Spirit, who the Father will send in my name, will teach you all things and will remind you of everything I have said to you. Peace I leave with you; my peace I give you. I do not give to you as the world gives. Do not let your hearts be troubled and do not be afraid.
vs
Quote: "There is no peace," says The Lord, "for the wicked."
Which do you want. Life is short so consider carefully and make up your mind quickly.
Edited by sparky on Aug 15, 2019 at 12:14 PM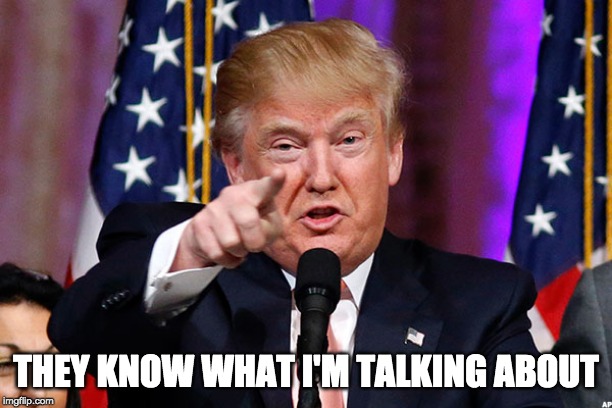 Edited by sparky on Aug 15, 2019 at 12:23 PM