OrangeJuice has contributed to 1831 posts out of 464191 total posts (.39%) in 3,128 days (.59 posts per day).

20 Most recent posts:

I always keep a few 128gb thumbdrives in my bag loaded with programs, and little batch-files and scripting I make myself xD

I also dislike installing stuff unless they're like . . . fully fleshed out programs that do more than one thing. Funny thing to agree on
Edited by OrangeJuice on Aug 20, 2017 at 09:28 PM


In case y'all didn't notice, this topic is immediately adjacent to the original version of the halomaps topic


You should try to get Halo Custom Edition and halo derivatives banned from the next slew of tech and gaming expos for the lulz
Edited by OrangeJuice on Aug 15, 2017 at 01:33 AM


Nobody cares about politics


This wishy-washy political buzzword nonsense has only been appearing in common conversation for what. . . . like only 5 years?

A bunch of scene kids parroting lines off of TV trying to fit in.

" Hurr hurr, that's alt right! Radicaaaal ! ! ! "
" This chicken burrito tastes soooooo alt left ! "

Edited by OrangeJuice on Aug 14, 2017 at 10:03 AM


Or it just has a lot of janked dependencies because they're CMT tags,

Looks like you need to extract a10, a30, a50, b30, b40, c10, and c20


try:


os_tool build-cache-file levels\test\tutorial\test


or


os_tool build-cache-file-ex "" 0 0 0 levels\test\tutorial\test


You used the wrong tool, use os_tool
Edited by OrangeJuice on Aug 6, 2017 at 09:25 PM


I think making bipeds is kind of fun, but if you're new to Halo Custom Edition, here's some tips for making character tags(.biped)

A post about JM-Animation filetypes.

With this game, once you've installed the HEK, you'll have a data\ and tags\ folder. When making a new asset to play with, use the data\ folder first. It should have some basic textures, and a sample level.

Here's an example of how a character folder should look, and where TOOL will look for characters:

data\



- - - - -

I'm definitely not well-versed enough to help you though but I can at least point out some bare-minimums to start with. So try looking around for better tutorials or hope someone else decides to post something xD

First off, if you don't have 3dsmax8 or older, you'll need a set of maxscripts for the newer versions:



A JMS exporter(I use bobbysoon's jms exporter 104e)


A JM-Animation exporter(I use CAD Animation exporter(comes with two scripts, I use the compact version because the regular one doesn't work))


An animation importer(If you're going to go reverse-engineer//study other people's animations for reference)



Secondly, make sure your character is facing positive X in 3dsmax and its bones start with " Bip01_ "

Though if you ask around, people have made working tools for Maya and Blender

At the very minimum, a character in halo needs a #body node and a #head node for TOOL to recognize and compile it. Here's an example of how that looks in 3dsmax:




If you go back up and look at the first image, you'll see some animations ending in .JMA that have similar sounding names:

:SEAT: :WEAPON: :ANIMATION: .TYPE.

A character's default animation is usually " stand unarmed idle.JMA "
--- This is intentional, because when TOOL compiles a new animation_graph, it uses pre-existing names, the default seat of a biped tag is called stand, the default base weapon pose is called unarmed, and the default animation that plays upon spawning your character into a world is called idle. Always make your idle pose first, then a head-turn graph, if you want the head to turn with the camera.

You don't need ANY animations to spawn a character, so that's one less step to take to test character models

Wellp! That's all I know without making myself sound stupid, hopefully others can help you out

Maybe just start simple, and rig whatever you're going to make to something else's bones, like the cyborg skeleton. So you'll only have to make a model and nothing else

BTW, the ( Before you ask how to edit/make maps - Read This ) topic has a lot of useful posts that go in-depth about texture, tag, and animation requirements. Have a look around.

- - - - - - - -



Edited by OrangeJuice on Aug 6, 2017 at 05:35 AM
Edited by OrangeJuice on Aug 6, 2017 at 05:41 AM


That feeling when:

People think software deprecation means " 100% disposal, dismantle, and make permanently unusable. "

//cynicism
//sarcasm
Edited by OrangeJuice on Jul 28, 2017 at 03:05 AM


Oh, are you looking for them ?


Yes or no ?
Edited by OrangeJuice on Jul 27, 2017 at 10:28 PM


-snip-
Edited by OrangeJuice on Jul 27, 2017 at 12:05 AM


Is there a longform version of their proposed act I could read somewhere?

Or is all of this just more irrational (edit:) panic:: like the last few times.

Ergo: Where does it explicitly say that this will have any effect on 'normal's.

Edited by OrangeJuice on Jul 19, 2017 at 10:07 PM


Aww man, you got cool chroma glass?

All I got was glass that gave broken-TV static.

Which reminds me. Bumped glass is completely broken so it might work or not work depending on one's own computer. tested in sapien

dgvoodoo2 wrapper which can emulate geforce 3/4 hardware, but it's only for d3d8 and stuff so it doesn't work here :/


A lot of this stuff persists and is probably unfixable outside of modifying the renderer.

Edited by OrangeJuice on Jul 6, 2017 at 05:24 AM


Guess we can all agree that its alpha does nothing then xD

Unless it was intentional because the model was meant to only be seen from far away on a small interlaced screen?
Edited by OrangeJuice on Jul 1, 2017 at 10:59 PM


oooohh.... What does its alpha do ?


I only need the lookat point, double clicking to select gives me local-only object YPRs for parent>child so arms all get rotated as themselves instead of ' parent-only '

Save dem weird helpers for something that can't do cartoon smear-frame movements, I need bendy limbs :)
Edited by OrangeJuice on Jun 30, 2017 at 06:21 PM




Done. Rigged it. (trolololololololol ! ! ! !
)



cartoon bendy'ness

Everything is faster with drawing tablets, screw all them dang 'ol conventions that only apply to realism. :P
Edited by OrangeJuice on Jun 30, 2017 at 10:33 AM


I'm having a ton of fun making skeletons for nonhuman characters and stuff that I find online :D

Lots of practice, plus no animations, so I have to animate them as well

I don't plan on rigging any of them to existing halo animation_graphs. That's boring ! make it from scratch :D
Got carried away with the big rabbit ninja thing with axe hands so it kinda has too many bones in it for the HEK right now, so I'll probably resave it and make an HEK-compatible version tomorrow. I just wanna frikkin in-game all this stuff xD



Edited by OrangeJuice on Jun 30, 2017 at 06:06 AM


Tried to make a first-time character for cryengine 5. Got mad after two days of trial and error.




A biped.

Got it in halo in like 2 minutes. WITH multiple custom animations.

Meanwhile, cryengine5 can't even import a simple 5-bone character with properly configured physicalization and materials.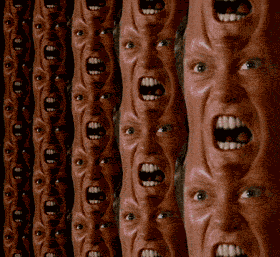 All of this advanced crap with really easy layer setups, and collision, and render targets all being their own easy to edit tag, and yet cryengine still manages to be piss hard about how you import things to it and always whining about dumb little vertex//linker mismatches :shrug:(edited)

Heck, I even have a custom gesture linked to FlashLight and Crouch.


I don't wanna manually code in a physicalized-cloth//capes feature just to use changyou or UE4 . . . .
Edited by OrangeJuice on Jun 29, 2017 at 04:29 AM


Oh yeah.

We know about those ^_^

We even have the halo debug xbes for xbox available somewhere because the last people who had them tried to lock them away behind a decade of secrecy

Edited by OrangeJuice on Jun 11, 2017 at 09:52 PM


The source file for that texture simply has green there in the RGB channels. It's transparent in-game because the Alpha Channel hides the background